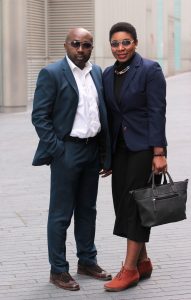 Husband and Wife duo, Emeka & Faustina Anyanwu co-founded Divas of Colour in 2014 and since it has become the largest platform for women of colour from around the globe.
The flagship festival is held every spring, in March, to commemorate International women's month with activities such as Fashion show, Trade show, conference, and awards. Each year, Divas of Colour focuses on raising awareness on particular issue affecting women of Colour in particular. We have dealt with Depression supporting Depression Alliance, domestic violence supporting Glowing Future, The girl Child supporting Girl Child Network and Star Children Initiative, and in 2017, we dealt with Gynaecological cancers and in 2018, we're focusing on mental health.
Divas of Colour was created to give women of colour a voice, bring them together, give the contributions, achievements and beauty of women of colour visibility. In this era of so much talk about diversity, it seems that ethnic women have been shoved aside whilst everyone else's issues are being addressed.
Divas of Colour provides opportunity for women of colour to talk, discover, build and celebrate their uniqueness without having to question their acceptance or value. And in the last 4 years we have simply achieved that. We have had women such as Baroness Howell, Yvonne Thompson, Bianca Miller- Cole, Hon. Cecilia Ogwal (Ugandan MP) was our special guest of honour this year, and more on our platforms, recognised and awarded.
The 2018 festival which is tagged – Mind The Mind will raise awareness on mental health issues within Afro-Caribbean communities especially women. The figures we're getting from our research so far is staggering and we believe it's a necessary topic to deal with at this time.
Divas of Colour forum has also since gone beyond a mere one off event. It has become a platform where women of colour – entrepreneurs, professionals, upcoming and young women of colour can find solace, advice and more. We have created a membership club where, women of colour can network on different levels, go for retreats and have a form of mind, body and spiritual therapy. We also organise periodic events within the year from business to leadership, love, healthcare, beauty and fashion topics.
We have helped so many women to find confidence in building themselves up both with their business and discovering themselves. See the Testimonial page you will find a few feedbacks we've received from women we've worked with.
On 29th of July 2017, our sub event will be launched with the Women into Leadership conference, expecting over 100 women to attend.
This sub global conferences will see diverse women of colour from all walks of life speak, teach and tell their stories. The conferences are aimed at empowering women, teaching skill-sets to grow their personal, professional and business opportunities. Bringing together women of colour influencers to learn, connect and discover collaboration opportunities within our network of professionals.